Aquatic Therapy is Back at Pinnacle
By Leah Stafford, PTA, Aquatic Specialist
Poets, philosophers, and physicians have all written about "HEALING WATERS." In Physical Therapy, we recognize that water supports body weight which makes exercising easier. With the proper exercises, water can stretch muscle fibers and decrease muscle spasms. It also provides consistent resistance surrounding the joints for more efficient strengthening. Aquatic Therapy is beneficial for many injuries; it is also fun and invigorating.
The benefits of aquatic therapeutic exercise include decreased stiffness, swelling and pain, and increased mobility, strength and function of joints and muscles. Because the water environment improves cardiovascular endurance, circulation and respiration, professional athletes and NASA astronauts cross train in the aquatic environment. For others and those less active after prolonged sedentary lifestyles due to illness, age or disinterest in gym workouts, there is an ease of movement in the water that improves balance and coordination making exercising fun and less stressful to the body. You do not need to know how to swim, there is no lap swimming. For those afraid of water or swimming, keep in mind classes and therapy can be kept in waist depth or less and staff is standing by at all times.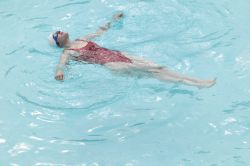 If you have chronic pain, joint problems or an injury to your neck, back, shoulder, elbows, hips, knees or just difficulty with walking, then call us at Pinnacle Physical Therapy (209)736-0956 to make an appointment with our physical therapy staff. Insurance covers aquatic therapy for many ailments, and is very cost effective for one to take a customized therapeutic program to their home or community pool for continuing relief. Arthritis, osteoporosis, diabetes and some cardiac rehab can be addressed with aquatic therapeutic exercise. Osteoporosis research shows that there is no substitute for weight baring exercise to rebuild bones, but if one has not been exercising for some time, then water exercise is a safe and gentle place for those fragile bones and a fun way to get back to exercising. Once a base line level of strength is achieved, our therapist can direct you to the appropriate follow-up land exercises.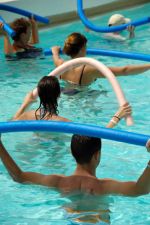 No real medical issues, but want to try aquatic therapeutic exercise after being inactive over the winter months, then try Pinnacle's Drop-In Aquatic Therapeutic Exercise Class offered Fridays at 9-9:45 a.m. for only $5.00. This class is meant for folks "in between" those who already participate in a community aquatic exercise class and those in need of therapy. The class is designed to be a little slower and considers physical joint safety over that of fast movement. It is great for converting a "couch potato" into an exercise person or loosening stiff joints due to physical injury or aging reasons. People with Rheumatoid arthritis, chronic fatigue, and Fibromyalgia have enjoyed participating in this slower paced class. The goal in this class is to gently and "safely" get one up to speed to either join another community offered class or just stay and enjoy exercising with us.
Feel free to call our office (209)736-0956 if you have any questions regarding the classes or their appropriateness for you.
Come "Splash" with us; Sign Up Now!
Classes start June 6 at the
Bret Harte Aquatic Center
Bring your sunscreen and hat!